Gymnastics
There are several gymnastics clubs during the week, all run by Vicky , who is one of the senior coaches from Harriers Gymnastics Club, and her team. The aim is to give all children, girls and boys, from Y1 upwards the chance to learn the basics of good gymnastics. They are able to work towards national gym standards and achieve badges. Many children have started with the school-based club, and have gone on to regional, national and international success either with Harriers, or with other local clubs.
For more information, please contact the school office.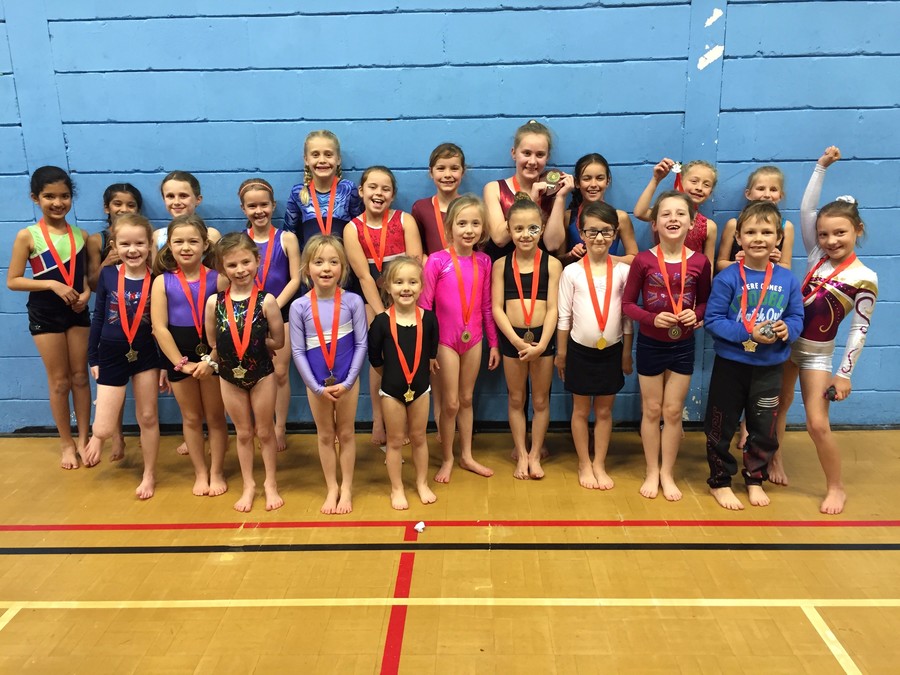 Harriers Acrobatic Gymnastics Club – Inter-School Gymnastics Competition
St Michael's Outstanding Success!
On Saturday 19th November a team of 23 gymnasts from St Michael's School represented their school at the Harriers Acrobatic Gymnastics Inter-School Gymnastics Competition.
Over 100 children from 11 different schools from the local area took part in the event.
Each gymnast performed individually, 3 different gymnastics sequences that they had practised during their after school classes, in front of a panel of judges and an audience of parents and friends.
Gymnasts competed in various age groups and levels of difficulty, from Level 1-9, against gymnasts from their own and other schools.
The team from St Michael's were entered in 13 different categories, winning 8 of them and every gymnast from our school placed either 1st, 2nd or 3rd in their section meaning that our team brought home an amazing 23 medals from the competition.
This outstanding achievement also meant that the St Michael's team had the highest average score amongst all the school teams meaning that we were the overall competition winners and brought home the 1st place winners shield to add to our medal haul.
Congratulations to all the gymnasts who took part and a big thank you to the parents for their support.
Results:
Gold:
Sofia Hutchfield, Zofia Sojka, Jessica Murray, Olivia Hutchfield, Meha Kalgaonkar, Katie Harding, Abbey Garde-Evans and Holly Goodwin.
Silver:
Rebekah Pantlin, Luke Roberts, Jessica Webb, Charley Roberts, Chloe Bugg, Ishita Jain, Charlotte Smith, Kaylee Roe and Scarlett Baker.
Bronze:
Holly Bugg, Amy Watkins, Elena Bishop, Ruby Baker, Lucy Harding and Alyssa Stavrou.
Schools Results:
1st Place – St Michaels Score – 22.88
2nd Place – St Helen's Score – 22.83
3rd Place – Stoke Lodge Score – 22.77