About Our School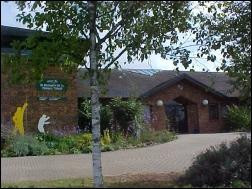 St Michael's Primary School is the largest Primary School in South Gloucestershire, with a standard admission number of 90.
For 2013-14, and 2014-15 we have taken 120 children (4 classes) in Reception.
We currently have 23 classes, with 665 children on roll.
St Michael's is a voluntary controlled Church of England school and maintains strong links with St Michael's Church in Stoke Gifford.
Our key strengths:
We are a very friendly and welcoming school

Our children are happy and enthusiastic learners

We have the highest expectations for every child to achieve their potential

We enjoy very close links with parents and the wider community

We offer an excellent range of clubs and additional activities (music, art drama etc)

We offer a curriculum that is stimulating, exciting and fun
Our last Ofsted inspection
Please see the Ofsted page for the latest Ofsted Inspection letter (Sept 2016)
Our last Church School Inspection was in April 2012. We were judged to be outstanding as a Church School. To access this report, click here

Our School Aims
Educate
We aim to:
Provide a stimulating, meaningful curriculum which inspires learners to find joy in their learning.

Challenge all children to reach their highest standards of achievement

Use ICT effectively to support all aspects of learning

Develop effective learning skills and so equip children for lifelong learning
Celebrate
We aim to:
Have a strong caring ethos based on Christian principles of love and compassion.

Celebrate all children's achievements.

Teach learners to understand and respect the beliefs and cultures of others.

Provide positive opportunities for spiritual and moral development.
Communicate
We aim to:
Inspire

hope

amongst the school community that all children's needs will be met.

Provide exciting opportunities to develop learning outside school hours

Place ourselves at the heart of the local community

Have a close and effective partnership with parents.
Cooperate
We aim to:
Create a learning environment where all are valued, and where love and forgiveness are at the heaert of relationships.

Ensure that learners are happy, healthy and active.

Develop children as global citizens, aware of their responsibilities towards wider world.
The school no longer produces a separate prospectus, as all of the information is now available on this website. All of the 'key' information that is required to be provided can be accessed through the links below. The website contains lots more information which we hope will be useful and informative for parents.