Community Links
At St Michael's School we believe in working closely with the local community. We employ our own FAMILY LINK WORKER, Eva Stewart (Mon - Thur) to support and develop our links with parents and the wider community,
Please get in touch with me if you would like to advertise any community activities on this page.
Eva Stewart Family Link Worker Tel:01454866781
Email: eva.stewart@stmichaelssg.org.uk
Splash Happy Swimming lessons for Key Stage 1
FUN for families with children aged 4-11
Get Active, be healthy, have fun!
Multi-activity clubs for families who would like to:
lead a healthy lifestyle
play sport but are not sure what to do
try new activities with other families
Taster sessions in a different activity every week e.g. multi-sports, healthy eating, climbing and archery
Information about how to take up a new interest/hobby
Safe and sociable environment - AND IT'S FUN!
Families may join at any time of the year, provided that there is space at the club. Please collect a postcard from your school or phone
01454 862296 to register your interest and for a friendly chat!
sportsdevelopment@southglos.gov.uk
Community Activities at Little Stoke Primary School
Little Stoke Primary School, Little Stoke Lane, Little Stoke, BS34 6HY

For more information please contact us on:
01454 862977
Mondays
Creation Station 10:00am-10:50am
Tuesdays
Childminding Group 9:30am-12:00pmPEEP (please ask staff for next start date and more details)
Zoom Zoom Session 1.30—2.30pm
Wednesdays
Police Beat Surgery (2nd and 4th of the month)10:00am - 11:00am
Stay and Play Plus (Invite Only)1:30pm-3:00pm
Thursdays
Baby Massage (booking only)9:30am-10:15am
Baby Group (up to 14 months) 10:30am-11:30am
Lunch Club (bring your own lunch)12:00pm-1:00pm
Chat Your Way to Story Time1:30pm-3:00pm
Fridays
Stay and Play 9:30am-11:30am
School in the Forest
Find out about Forest Schools. School in the Forest works in partnership with Old Down Country Park and delivers fun educational experiences including fire building and water skills either as Activity Days or school visits.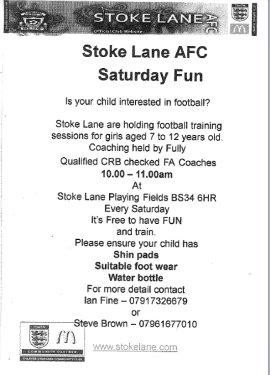 Stoke Lane run a free football club for girls on Saturdays. For more information click the link below or phone Ian Fine on
07917 326679 or Steve Brown on
07961 677010
The Music Train

The MUSIC TRAIN is a special event being organised for late afternoons on certain days, providing an opportunity to enjoy both a train ride and live music.
The Music Train is for everyone in the community. It is held early evening and is suitable for families with young children, the elderly and everyone else in between. It has proved particularly popular for adults with additional needs to come along with their carers. Feel free to invite your families, friends and neighbours. The more the merrier!!
Queries to:
Liz Gray
Tel:
0117 382 7284
| | | |
| --- | --- | --- |
| | | We are pleased to announce the arrival of St John Ambulance to St Michael's School, Stoke Gifford. We cater for youth members aged 5-18 and also need support from adults to grow and expand within this lovely community we wish to be a part of. We meet weekly in St Michael's School on a Monday evening, for more details please feel free to contact us via stokegifford@avon.sja.org.uk |
If you're aged between 10 and 17 years old, you can join our Cadet unit.. At Cadets it's all about fun, adventure and community. We meet weekly at St Michael's School.

Guided by youth leaders, Cadets take part in an interactive and full programme, working towards their Grand Prior Award. The programme enables young people to learn important life skills in a fun and safe environment, but with challenge and excitement appropriate to their age. Cadets can choose from over seventy different subjects to help complete their award. These range from Fire prevention and Photography, to Sports and first aid.

Younger Cadets learn first aid skills through our training course for young people while older Cadets can undertake a community first aid or first aid at work course. Cadets can put their first aid and other communication skills into practice by providing first aid to the public at events or teaching first aid to other young people and adults. 24 of our Cadets have just completed their Level 2 certificate and therefore can now provide first aid in the community under the supervision of one of our youth leaders.
If your under the age for cadets then maybe Badgers is for you. Anyone aged between five and ten years old can join our Stoke Gifford Badger Sett, which operate throughout the country. At Badgers it's all about fun and adventure!

Badgers take part in a lively programme, working towards their Super Badger Award. The programme has been developed to enable young people to learn important life skills in a fun and safe environment.

Badgers can choose from fifteen subjects to help complete their award. These range from Creative and Active, to Healthy and Caring.

Once a Badger has completed their membership paw, they move onto their bronze paw, which is awarded after completing three subjects. A further three subjects will gain the silver paw and another three for the gold paw. A Badger becomes a super Badger when they have completed twelve subjects.

Badgers learn important first aid skills through their Super Badger Award and various first aid courses. Badgers can get a really cool black and white uniform which they can wear in the Sett and at some public events.