Our School Vision
At St Michael's Primary School we believe in the uniqueness and potential of each individual. We aim to be a safe, happy learning community which cares for each other, and the world in which we live.
Our Role as a Church School: Our Values/British Values
We have four core values which permeate all we do:
Love; Hope; Joy; Forgiveness
These values are rooted expressly within the teachings of Jesus in the New Testament. We hope and expect that all pupils and parents will share these values, whether or not they are practising Christians.
British Values
We want all of our pupils to understand how the above school values link very closely with 'British values'. These values seek to recognise what unites our society how we as a society bond together through a shared set of values and understanding. Fundamentally, British values consist of:
democracy,

the rule of law,

individual liberty,

mutual respect and tolerance of those with different faiths and beliefs
Full details of our approach can be found in our PSHE Policy
Prevent
Prevent is the national strategy to combat radicalisation and extremist views in all their forms. Our aim as a school is to ensure that respect, tolerance and understanding are fundamental aspects of teaching and learning.
Our Church Foundation
As a voluntary controlled Church of England School we are specifically required to:
Have a daily Act of Collective Worship that is consistent with the faith and practice of the Church of England

Include Religious Education that is consistent with the faith and practice of the Church of England.
Reflective Corner
We have a reflective Corner in the school foyer. The aim of this corner is to focus the school on the theme for the term, and to provide a focal point for reflection and sharing ideas.

Collective Worship
The School holds a daily Act of Collective Worship. Each term we follow a main theme, which is further split into weekly topics. A Copy of the School Policy on Collective Worship can be found below.

Reserved R.E.
Children at St Michael's have the opportunity to have additional Religious Education classes. These are run by Karen Needham, the Church Youth worker. Please contact the school office if you would like your child to take part in this.
Church Links
We are very proud of our links with St Michael's Church in Stoke Gifford. Visiting speakers from the Church lead Collective Worship in the school on a weekly basis. All classes visit the church in the course of the year.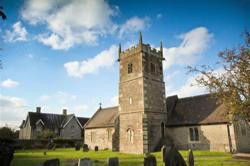 To visit St Michael's Church website please click here

Policies
RE Policy - Feb 2015 final version.doc
Collective Worship Policy Dec 2016 v4.doc