Keeping Children Safe
Keeping all of our children safe is fundamental to everything that we do in school. We aim to work closely with parents/carers
and support agencies in order to ensure that children are safe both within and outside school.
There are a number of important school policies which support and define our practice.
Safeguarding
The Designated Safeguarding Lead in the school is Mr P Barnard (Headteacher). He has overall responsibility for Safeguarding.
The Deputy Safeguarding Officers are: Mrs Jo Prendergast, Mrs Eva Stewart, Miss Sarah Bradley and Miss Anna Carr.
The safeguarding governor is Mrs Maggie Sims.
Mrs Fiona Murray has particular responsibility for Looked After Children.
Any concerns about how the school deals with safeguarding issues should be referred either to the Chair of Governors,
or to the Local Authority Designated Officer (LADO), Tina Wilson (Tel: 01454 868 924).
Click here for the 2021 update of Keeping Children Safe in Education (from Sept 2021)
We maintain a culture of 'it could happen' here to ensure all staff and volunteers are aware of the collective responsibility we all have to safeguard children.
The poster below (which is displayed around school) details some of the top tips are staff use when safeguarding children.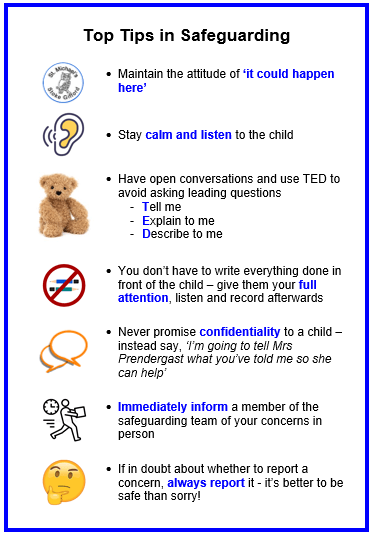 We empower children to share their concerns with a trusted adult in a number of ways: we build excellent relationships with our pupils and they trust staff here; we inform pupils through our PSHE curriculum and assembly programme; and we have worry boxes to allow older pupils to write down concerns they may not want to talk about.
Our staff receive annual safeguarding training and weekly reminders in our Staff Update to keep their knowledge and skills up to date.
When new staff members or student teachers join our school they too receive safeguarding training.
E-safety
We do lots of work in school with children about e-safety (keeping themselves safe online).
There is a high level of filtering in place in schools to prevent access to unwanted sites: this may not be the case at home.
We strongly recommend that parents educate themselves how to keep their child safe at home - please visit our e-safety page to find out more, and to access some really useful sites.
Prevent Duty
Our safeguarding policy incorporates the latest guidance on how to prevent radicalisation.
Safer Recruitment
We have comprehensive vetting procedures as part of the appointment of new staff, and at least one member of the
appointments panel has the appropriate safer recruitment training.
DBS Checks
All staff and regular volunteers are required to have a DBS check (Disclosure and Barring Service).
This will highlight any relevant previous convictions.