We have been learning about how to live Sustainability with local trips,
Zoom speakers, in our lessons and in clubs.
Year 5 compared the number of species of tree per area in Mead Park (our local environment) with the density of species in the Amazon Rainforest.
Year 6 pupils all took part in an orienteering competition in our local environment at 40 Acres. They used their navigation skills and worked on their fitness.
Scientists have talked to us via zoom including to Year 3, Dr. James France, Polar Explorer, and to Year 4 Dr. Christina Manning, Vulcanologist. Year 6 had talks about climate change and adaptation with Professor Dani Schmidt and Professor Katerina Michaelides.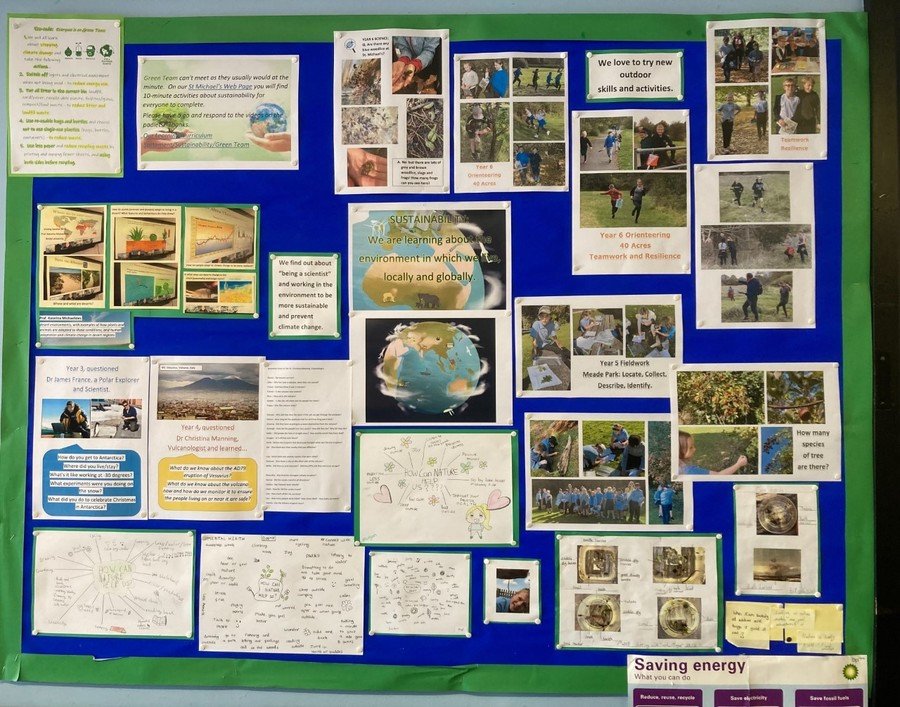 Sustainability
We want children to be very aware of the environment in which they live, but also of their responsibility towards the wider environment. This includes developing their understanding of local and global issues – and also helping them know how they can make a difference. "Learning and Understanding are the first steps to action"...https://worldslargestlesson.globalgoals.org/resource/call-to-learning/
Intent
We aim to combat climate change now and develop pupils' cultural capital to continue to do so in the future. Get inspired now with "The World's Largest Lesson, 1 and 3" Videos
We aim to teach the key concepts of sustainability, embedded in our curriculum. Pupils practise associated skills through enrichment and whole-school and extra-curricular activities.
We use six UN Sustainable Development Goals (SDG) as a framework for teaching and learning of sustainability.
https://www.un.org/sustainabledevelopment/sustainable-development-goals/
Implementation
Teaching and learning for sustainability is focused on six of the SDG: 1) Use sustainable travel; 2) Reduce waste including plastic pollution; 3) Use sustainable energy and reduce greenhouse gas emissions; 4) Protect the natural environment - reduce water waste; 5) Protect the natural environment – in local and remote environments; 6) Support sustainable food production; healthy lives and eating.
The SDG for health and well-being - develop resilience - is the focus of separate policy for Growth Mindset and Challenge https://www.stmichaelssg.co.uk/our-learning/more-able-gifted-and-talented
For each of these SDG, teaching and learning of sustainability is implemented in 3 ways.
Embedded in curriculum subjects (photos below)
Curriculum Enrichment e.g. theme weeks and trips
Extra-Curricular Activities. In a "normal year" Year 6 take on role of Sustainability Leaders; each class has sustainability leaders/ Green Team leaders.
THIS school year 2020-2021, it is particularly important that everyone in school takes responsibility as part of Green Team https://www.stmichaelssg.co.uk/our-learning/our-curriculum/environment/green-team
Sustainability Curriculum Overview
Across our curriculum, children are taught and learn "key concepts" of sustainability so that they understand the evidence and scientific knowledge needed to make informed decisions. This links to our curriculum vision to understand the past: to understand how the world works based on previous experience and evidence.
Enrichment and Extra-curricular: Everyone is on Green Team.
Pupils have opportunities to apply knowledge of key concepts and to develop key skills in the present, to make decisions and to take actions. Pupils develop cultural capital for the future: they know they can, and do, make a positive impact within our school and local environment, thus contributing to national and global goals for sustainability.
Green Team are leading actions towards our second Eco-schools Green Flag Award using our 5-point action plan and by following our Eco-Code.