"You are the light of the world…..let your light shine before others, that they may see your good deeds and glorify your Father in heaven." Matthew 5:14-16
Our School Vision
At St Michael's School we provide a safe, happy and inspiring learning environment based around our core values of love, joy, hope and forgiveness.
We celebrate the uniqueness of every child, and encourage them to shine in all they do, preparing them for life's journey.
Let Your Light Shine
Our Role as a Church School
We are inspected every five years to evaluate our distinctiveness as a Church School. Our most recent inspection was June 2017, where we we again judged to be Outstanding. To access the report, click here.
What the report said about us:
The school's Christian vision and values have a strong impact on the whole life of the school.

The partnership between the school and church communities is exceptionally close and contributes

significantly to the school's distinctive Christian character.

The high quality of children's spiritual awareness, promoted by the school's curriculum and Christian

character, has a profound impact on their academic achievement, personal development and well-being.

The vision of the headteacher and leadership team drives the continuous improvement of the school's

distinctive Christian character thereby raising its impact.
Our Values
We have four core values which permeate all we do:
Love; Hope; Joy; Forgiveness
These values are rooted expressly within the teachings of Jesus in the New Testament. We hope and expect that all pupils and parents will share these values, whether or not they are practising Christians.
Our Church Foundation
As a voluntary controlled Church of England School we are specifically required to:
Have a daily Act of Collective Worship that is consistent with the faith and practice of the Church of England

Include Religious Education that is consistent with the faith and practice of the Church of England.
Reflective Corner
We have a reflective Corner in the school foyer. The aim of this corner is to focus the school on the theme for the term, and to provide a focal point for reflection and sharing ideas.

Collective Worship
The School holds a daily Act of Collective Worship. Each term we follow a main theme, which is further split into weekly topics. A Copy of the School Policy on Collective Worship can be found below.

Reserved R.E.
Children at St Michael's have the opportunity to have additional Religious Education classes. These are run by the Church Youth worker. Please contact the school office if you would like your child to take part in this.
Church Links
We are very proud of our links with St Michael's Church in Stoke Gifford. Visiting speakers from the Church lead Collective Worship in the school on a weekly basis. All classes visit the church in the course of the year.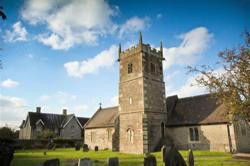 To visit St Michael's Church website please click here

Policies
Collective Worship Policy Dec 2019