Here are some of our projects ...... Enjoy!
Fabulous Felt
Wet felting is a fantastic medium to use, although rolling the felt can leave your arm muscles rather tired! We began by learning how to pull out and place the felt, then soak it and roll it on bubble wrap with a special soap. We each made a bracelet (getting the size right was a bit tricky) and then began to plan an abstract landscape that we will move on to next.
Bubbles!
Year 3 Art Club started with a pencil-crayon bubble project. We followed some simple steps to create them and they look incredibly effective. It is just a case now of practise and practise until we have the process perfected. Bubbles are fun to make and you can use any colours you like. A superb start. I'm excited to see what we create next.
Origami
Using colourful squares of paper we learn to create 3 key folds - the kite, the hat and the samurai. We practised these folds, getting more and more accurate, then worked in pairs to arrange them in a design which had symmetry. We also found our own folds to try. Jasmine still needs to teach me how to make a butterfly. It looks amazing but is very complicated!
Marvelous Mountains
We have looked at the work of illustrator and graphic designer Jen Aranyi, creating our own designs inspired by her work. We used a wet-on-wet water-colour technique for the sky then pen for the mountains and other details. Finally, some of us added stars using a white gel pen.
I sent the photos of our work off to the artist who inspired us. Here is her response.
Dear Mrs Fraser
Oh my gosh, these are great! Thank you so much for sharing, these photos just made my day! :)
Thank you for sharing my art with your art club, I'm so happy my art was able to help inspire them. Please let them know that I absolutely love the bookmarks they created!
Jen
Layers and Layers
As inspiration we looked at the work of Australian artist Sarah Robey. She creates her work by building up layers of painted shapes, stencils, colourful mark making and then a final layer just leaving a negative space design. It is a very clever process and very effective. I have now uploaded some examples of the final pieces as well as the different steps. I had to wait until after Mother's Day as I know some of the children wanted to give them as presents. I hope you liked them.
Tone and invisible pictures!
A lot of fun was had in this session. First we explored the differences between compressed charcoal and charcoal willow sticks, exploring how to create different tones (barely anything up to really dark). At this point we were already VERY mucky! We then drew an object (from memory or one in front of us) using a wax candle. Using wax meant the image was almost invisible on the paper. We learnt that you couldn't take the candle off the paper or you would loose your place. Once finished we rubbed on charcoal powder to reveal the image. This caused lots of hilarity but we were very impressed with our accuracy.
Oil Pastel Dragon Eyes
As a group we decided we wanted to explore the medium of oil pastels. Searching around, we found some amazing images of dragon eyes which we wanted to have a go at. Here are some of our creations so far.
Positive and Negative Collage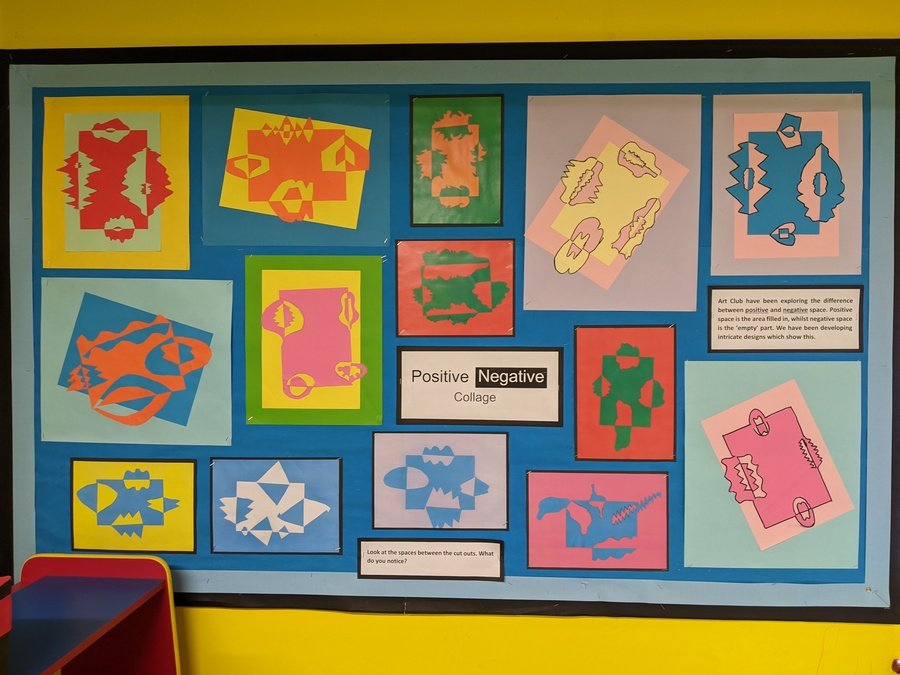 This activity was a bit of a jigsaw to create! We started off by making single cut outs on each side of a rectangle but then quickly moved on to doubles. These are where you cut out a piece from inside the first cut out. It is quite fiddly but the results were impressive.
Exploding Dots
We have been 'taking a dot for a walk', exploring adding paint to paper with a range of implements e.g. feathers, sticks, string cotton buds, fingers as well as brushes. Once dry we began to add decoration in pen.
Autumn Trees
We looked at the trees outside turning autumnal and Gustav Klimt's Birch trees (as well as other artists). We created our own versions using a water-colour wash background and acrylic trunks. We had fun splattering on the different colour leaves.
Colour Wheel Flowers
We explored the primary and secondary colour wheel, using it as our background for a concentric circle flower design. To make the flowers we used Posca Pens (We love them!) and sharpies to add the final pattern.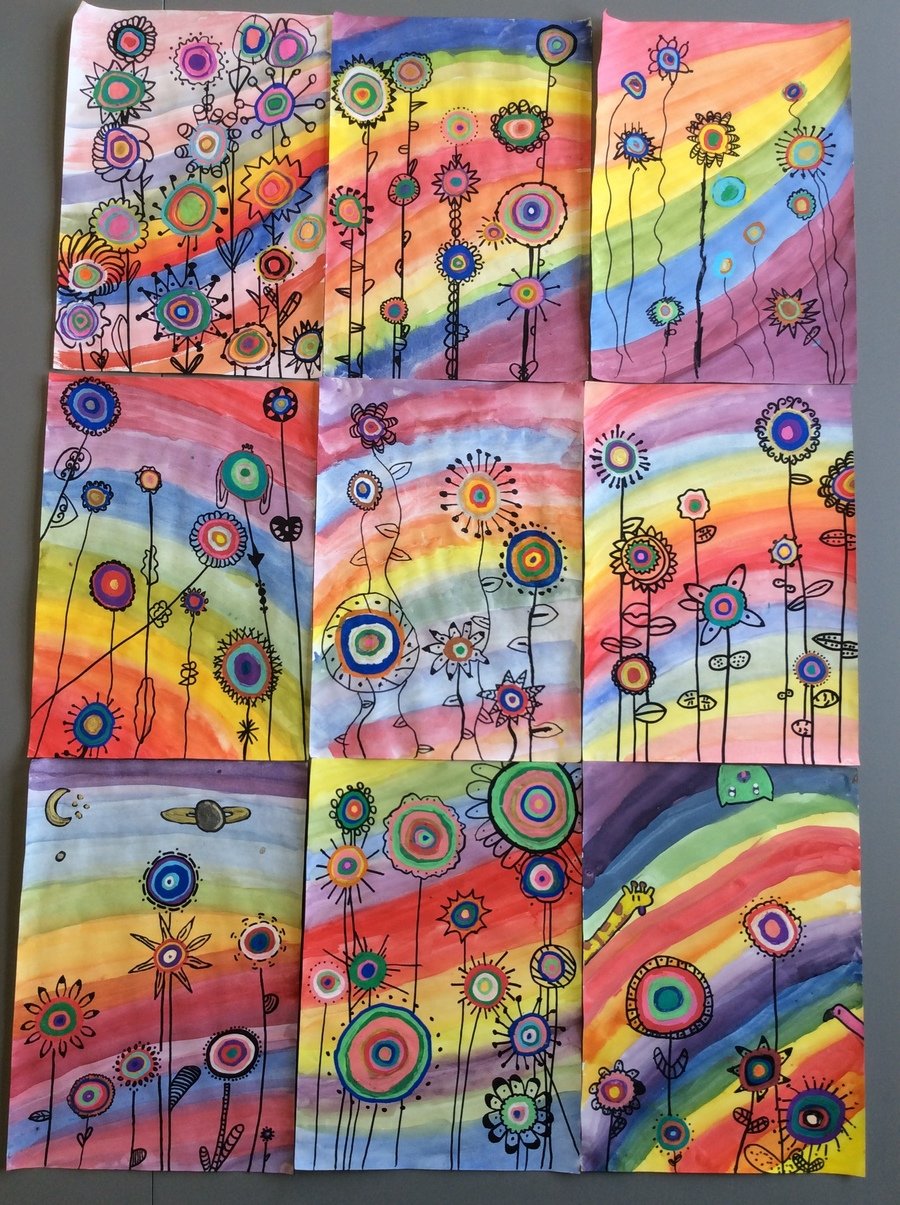 Animal Face Collage
To create these amazing faces we first splattered paint, ink and crayoned large pieces of paper which we then ripped into strips. (This did get rather messy!) These were glued onto card in a star burst design. On to this we added oil pastel eyes, a nose then inked on fur or feathers. The eyes have a glint to them because I painted a layer of resin over them. They look absolutely fantastic.
A new art club, run by Emma who is a local artist with a gallery in Frampton Cotterall, will be starting after Easter. Details to follow.