School Meals at St Michael's School
School Meals 2019-2020
The cost of a hot school meals from September 2019 will be £2.25 per day for KS2 children, and free for KS1 children and children in KS2 who are entitled to pupil premium.
In addition, starting in the Autumn term we will be offering a Lighter choice for all children. The light choice will be in the form of a baguette served on a plate the same as the hot meals. The cost is the same, there is no need to pre-book this option.
03/09/19 - Lunch Menu Term 1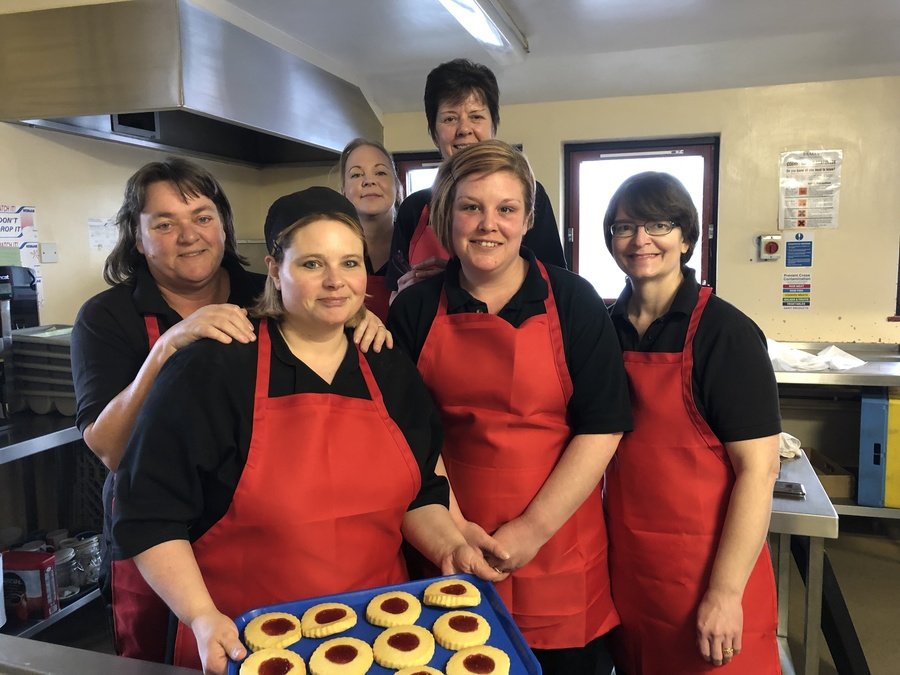 Government packed lunch advice
The UK government produced packed lunch guidance to support the implementation of new school food standards for school lunches and ensure that all children benefit from eating quality food during the school day.
The guidelines are:
One portion of fruit and one portion of vegetable or salad every day to be included in packed lunches
Meat, fish or another source of non-dairy protein should be included every day. Non dairy sources of protein include lentils, kidney beans, chickpeas, hummus, peanut butter and falafel
An oily fish, such as salmon, should be included at least once every three weeks
A starchy food, such as bread or pasta, rice, couscous, noodles, potatoes or other cereals, should be included every day
A dairy food, such as semi-skimmed or skimmed milk, cheese, yoghurt, fromage frais or custard should be included every day
Free, fresh drinking water should be available at all times
Include only water, still or sparkling, fruit juice, semi-skimmed or skimmed milk, yoghurt or milk drinks and smoothies
Snacks such as crisps should not be included. Instead, include nuts, seeds, vegetables and fruit (with no added salt, sugar or fat). Savoury crackers or breadsticks served with fruit, vegetables or dairy food are also a good choice
Confectionery such as chocolate bars, chocolate-coated biscuits and sweets should not be included. Cakes and biscuits are allowed but these should be part of a balanced meal
Meat products such as sausage rolls, individual pies corned meat and sausages / chipolatas should be included only occasionally.
Fruit Tuck and Sweets in School
Fruit Tuck
St Michael's is a healthy school and offers fruit tuck at morning break free of charge for KS1 and 25p per item for children in KS2. Children can also bring their own fruit snack for breaktime, but not cakes, sweets or biscuits.
Fairtraid
On Wednesdays KS2 children can purchase a Faitraid snack at break time. This is a Year 6 initiative where a small group of children take charge of buying and selling stock. Prices are 50p for Geobars and 70p for cookies. (subject to change)
Sweets
Please do not send sweets or cakes in to school for birthdays or special occasions. Sweets will not be handed out in school.
Children are encouraged to bring a named water bottle in to school each day. Please no squash or other drinks.
Milk and Fruit in Key Stage 1
Free milk is only provided to 4 year olds and ends on the Monday following their fifth birthday. We do not currently offer milk to children who are over 5.
Children in Key Stage 1 all receive free fruit either before or after morning break. All children throughout the school may bring in fruit for breaktimes.
If you are eligible for Free School Meals and would like your child to be provided with milk, please contact the school office for details